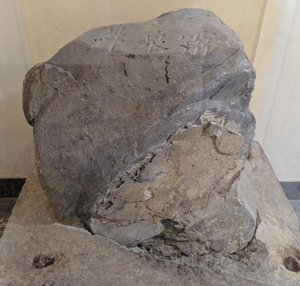 Spiritual Spring Well Stone Plaque
Taitung, originally known as "Beinanmi" or "Pi-lam Mi", also known as "Rear Mountain", was once inhabited only by Taiwan's indigenous Austronesian peoples. Not until the late 1600s did Han Chinese come to Taitung to trade and farm. In 1875, the Qing government established Beinan Subprefecture. In 1884, Admiral Zhang Zhaolian established the Zheng-Hai-Jun Central Rear Camp near today's Zhonghua Road. In 1887, Beinan Subprefecture was upgraded and renamed Taitung Prefecture after Taiwan was reorganized as a province.
In June 1888, due to the harsh collection policies imposed by Commissioner Lei Fu-Hai of the Tsui-Wei Pacification and Settlement Bureau for land fees, a Hakka settler in Da-jhaung Village namedLiu Tian-Wang, rebelled with indigenous people and other Han settlers.